News
How to take advantage of SAVE, the new student loan repayment plan
SARASOTA, Fla. (SNN TV) — The time for you to resume repaying your student loans is soon.  
"October is right around the corner when those payments are due," said Leslie Tayne, founder and managing director of the Tayne Law Group.
After three years of holds, repayments begin again in a couple of weeks, but not without some changes. After student loan payments were paused under the 2020 CARES Act and continued under President Biden, student loans are now set to continue in October.
But with the new SAVE plan created by Biden's Department of Education, Leslie Tayne of Tayne Law Group said many borrowers will see big shifts in what they're paying.
"It could give you the opportunity to not only reduce the payments significantly but even get them down to zero," Tayne said.
The new plan is geared toward lower and middle-income borrowers. The income exemption increased from 150% to 225% above the poverty line. What does that mean?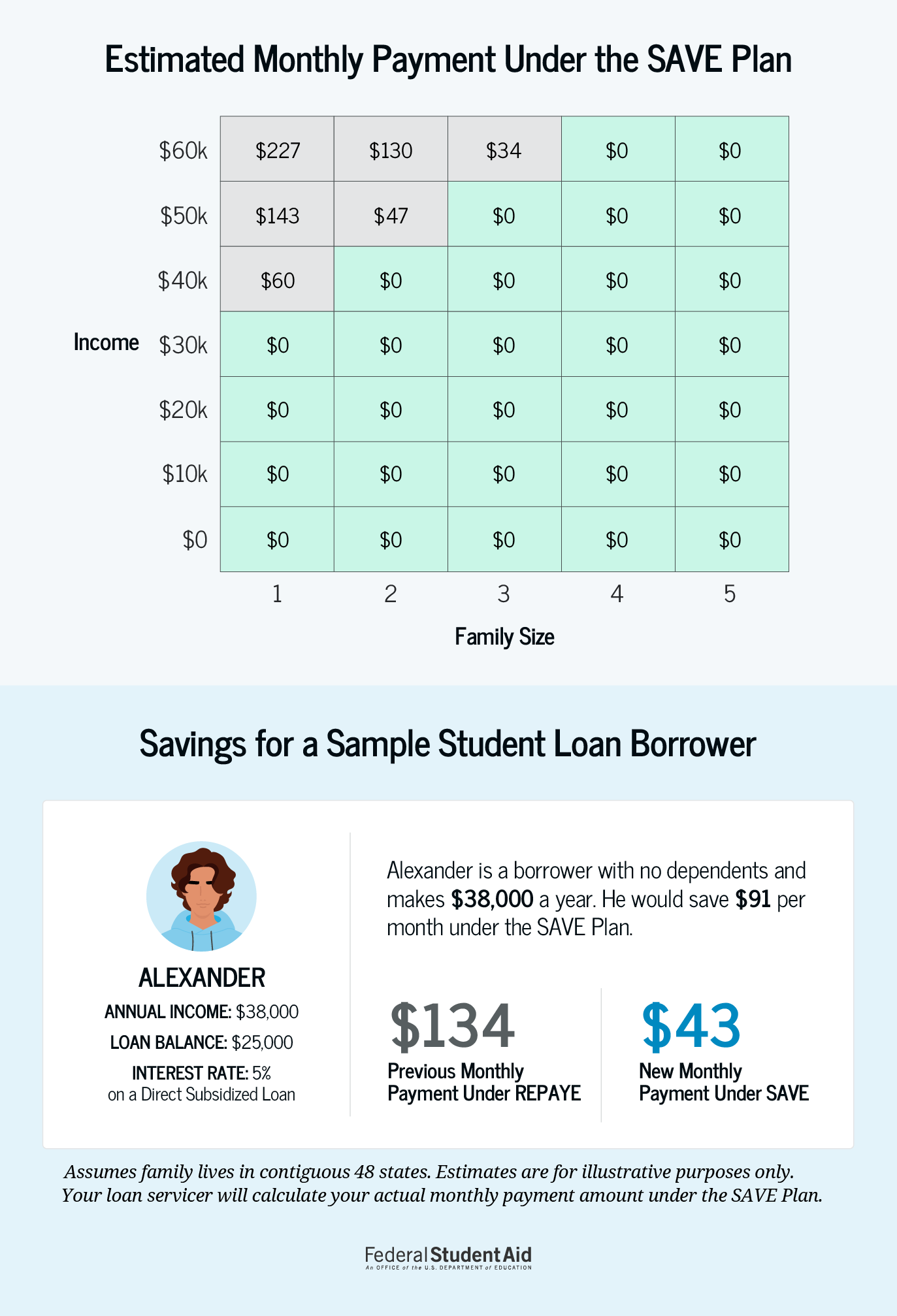 It means if you make $50,000 a year and you're in a family of two, you could pay $47 a month. The bigger the family, the lower the payment. 
However, if you're of high income, you're not likely to see as big of a savings. Those making $60,000 living alone would make an estimated payment of $227 a month.
Other changes under the SAVE plan include spousal income now being excluded if you're married and file separately. Also, on July 2024, payments on undergraduate loans will decrease from 10% to 5% of income above 225% of the poverty line.
This only applies to federal loans, not private loans. If you can't remember whether it was federal or private, there are easy ways to find out.
"Under the federal loan, there was no requirement to make payment under the CARES Act, which came about during the COVID-19 pandemic," Tayne said, "Private student loans, on the other hand, did not follow suit. If you were pursued by a student loan company [in the past three years], it's likely that that was a private loan." 
The information is on the government's website, studentaid.gov. But Tayne recommended calling your loan servicer.
"Make sure you have your income available, and you have your maybe your W-2 available, your tax return," advised Tayne. She also said the servicer can answer if your loan is a direct federal loan or a private loan.
You should also make sure your servicer is the same one you had three years ago.
"Some of the servicers have changed over the last several years. Some have been consolidated or eliminated; your servicer might have changed. It's important to make sure they have updated information on you, that you have appropriate access to the portal where the servicer is," Tayne said.
Finally, get on this early.
"Servicers are going to be inundated with tons of calls. I know my office alone is receiving tons of calls from the federal student loans, so imagine what the servicers are going to be facing. Be proactive about that and your own advocate," advised Tayne.
Remember if you're on a "Parent Plus" loan, meaning you cosigned a loan on behalf of the student, and the borrower doesn't pay, you'll be responsible.
The following detailed information regarding the SAVE Plan was provided by Tayne Law Group:
What is the SAVE repayment plan? 

The Saving on a Valuable Education (SAVE) plan is the newest income-driven repayment plan, which currently caps payments at 10% of discretionary income 
It replaces the Revised Pay As You Earn (REPAYE) plan 
SAVE significantly decreases monthly payments by increasing the income exemption from 150% to 225% of the poverty line 
If income is low enough, payments could be $0 (individuals earning roughly $15 an hour or less) 
If payments aren't large enough to cover accrued interest, the remaining amount is eliminated for both subsidized and unsubsidized loans 
It excludes spousal income for borrowers who are married and file taxes separately 
Starting in July 2024, additional benefits will go into effect, including: 

Payments on undergraduate loans will be cut in half (reduced from 10% to 5% of income above 225% of the poverty line).  
Borrowers who have both undergraduate and graduate loans will pay a weighted average of between 5% and 10% of their income, based on the original principal balances of their loans. 
Borrowers with original principal balances of $12,000 or less will receive forgiveness of any remaining balance after making 10 years of payments. Those with larger balances will require an extra year of payments for each additional $1,000 borrowed, up to 20 years (undergrad) or 25 years (graduate). 
Borrowers who consolidate their loans won't lose progress toward student loan forgiveness, and borrowers will automatically receive credit towards forgiveness for certain periods of deferment and forbearance. 

What are the requirements for the SAVE plan? 

There is no income requirement to qualify for the SAVE Plan 
It's available to all Direct Loan borrowers with eligible loan types, regardless of when they took out their loans. 
Those who are already enrolled in REPAYE will be automatically switched to SAVE 
All others need to apply for it

Who is the SAVE plan good for?  

How much you stand to save depends on income and family size. 
Lower-income borrowers and those who took out a small amount of only undergraduate loans might have the lowest monthly payments and the quickest path to possible forgiveness.  
Other groups will have higher monthly payments and need to make more years of payments to potentially be eligible to have their balances canceled. 
Parent PLUS borrowers aren't eligible. 

What should someone keep in mind when considering signing up for SAVE? 

Through 2025, borrowers who receive loan forgiveness (on any plan) do not have to pay federal income taxes on the forgiven amount (but may still be taxed on the state level). After that point, it's possible that the canceled portion of loans could be taxable at the federal and state level.  

What should borrowers know about the end of the student loan pause? 

During the forbearance period, several federal student loan servicers consolidated with other companies, so loans for many borrowers may be managed by a different servicer than in 2020. 
If borrowers are unsure who their servicer is now  (and they may have more than one) they can find that information by logging in to the Federal Student Aid website. It's a good idea to then log in to their account with their servicer and confirm the accuracy of their contact information. 

Aside from SAVE plan, what are other ideas if you can't make payments– specifically other repayment plans?  

There are three other repayment plans: Pay As Your Earn (PAYE), income-based repayment, and income-contingent repayment (the only one available to parent borrowers). 
If you aren't sure which option is best for you, your loan servicer can help 
Aside from income-driven repayment, you could consider deferment or forbearance, which allow you to temporarily pause payments due to a financial hardship. 

Anything else student loan borrowers should keep in mind as payments are due in October?  

Servicers will likely be inundated with phone calls as repayment resumes, and some are even cutting call-center hours. Borrowers should contact servicers with questions sooner rather than later and make any necessary changes to their repayment plan.