News
Band of the Week 2022 - Braden River Marching Band of Pirates
Tuesday, November 15th 2022, 10:00 AM EST
BRADENTON (SNN TV) - If you're a member of the Marching Band of Pirates, you're going to devote considerable time to the program.
For sophomore Jack Fletcher, 10 prior years of experience playing drums didn't prepare him for the kind of drums he'd be using here.
"I chose one of the heavier drums not knowing how heavy it was," Jack laughs.
And more importantly, the marching aspect meant a whole new experience.
"There's a lot of rehearsals, a lot of practices, but it's good to be doing all this than doing nothing," Jack says.
Senior Jasmyn Hattan's been here long enough to know the drill.
"Braden River has become my second home. I feel I'm here all the time. I do enjoy being here; I'm here quite often so I guess you have to enjoy it," Jasmyn laughs.
And Jasmyn knows the Pirates' reputation: if you compiled all the times they were state finalists and state champions, you'd basically just end up with a normal-looking list of years in the 21st century.
But last year, the Pirates were plundered, getting 8th in the state championships in their class. And that reset expectations.
"It was like an oh, this isn't just handed to us. This isn't just something that happens. We have to work for it," Jasmyn says.
That's something you learn at an early age, fitting for their show, Kindergarten, which proclaims a simple theme: Everything you learned, you learned in kindergarten.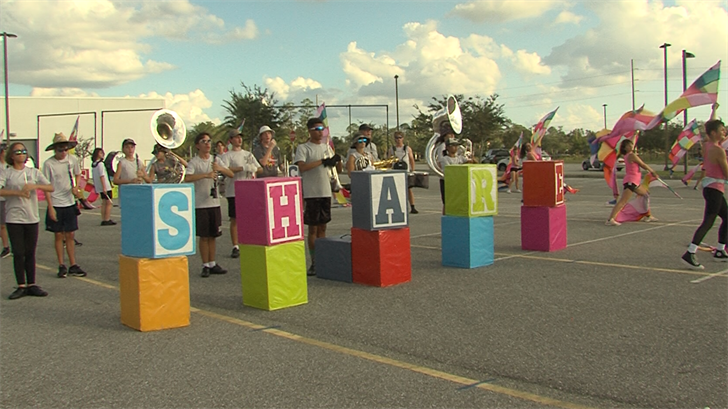 Basic values of respect, sharing, and a healthy dose of anger.
Perhaps through this show, with the band scoring straight superiors in their annual assessment, better than last year's performance, the Braden River band may remember another life skill: recognizing what came before them.
"Our alumni from Braden River, they are grand champions. Not only have we spun with them when we were underclassmen, we just want to keep it going, you know, keep the MBOP name strong," says Jasmyn.
The band is under the direction of a whole team, headed by band director Cliff Dawson. They will perform at the state championships in Fort Lauderdale this weekend.