News
Petland Bradenton plans to continue selling puppies
Petland Bradenton continues to sell cats and dogs after a 45 day stay was granted. Despite accusations of their dogs coming from puppy mills, they show no signs of slowing down any time soon.
Manatee County Commissioners voted to ban the retail sale of cats and dogs. They gave existing store owners, like Petland Bradenton, a one year grace period to change their business model. That was supposed to expire on August 10th but with new commissioners taking seats in November, it is unclear if the ban will stick.
"The majority of Manatee County Commissioners voted to stop the sale of puppies in pet stores because there was a well-established link between these stores and puppy mills," said John Goodwin, the Senior Director of the Stop Puppy Mills Campaign with the Humane Society of the United States.
Mike Beltran is the attorney for Petland Bradenton. He is adamant that his client uses reputable puppy breeders who follow USDA requirements.
"They're inspected by the USDA and Petland has franchise agreements that require them to only purchase from USDA licensed breeders and small hobby breeders," said Beltran. 
A certificate of veterinary inspection (CVI) is required any time a puppy is shipped or it crosses state lines.
"This piece of paper can help link pet stores to the puppy mills they rely on," said Goodwin.
This CVI receipt shows USDA licensed breeder Daniel Gingerich's name as the sender and Petland Bradenton as the recipient.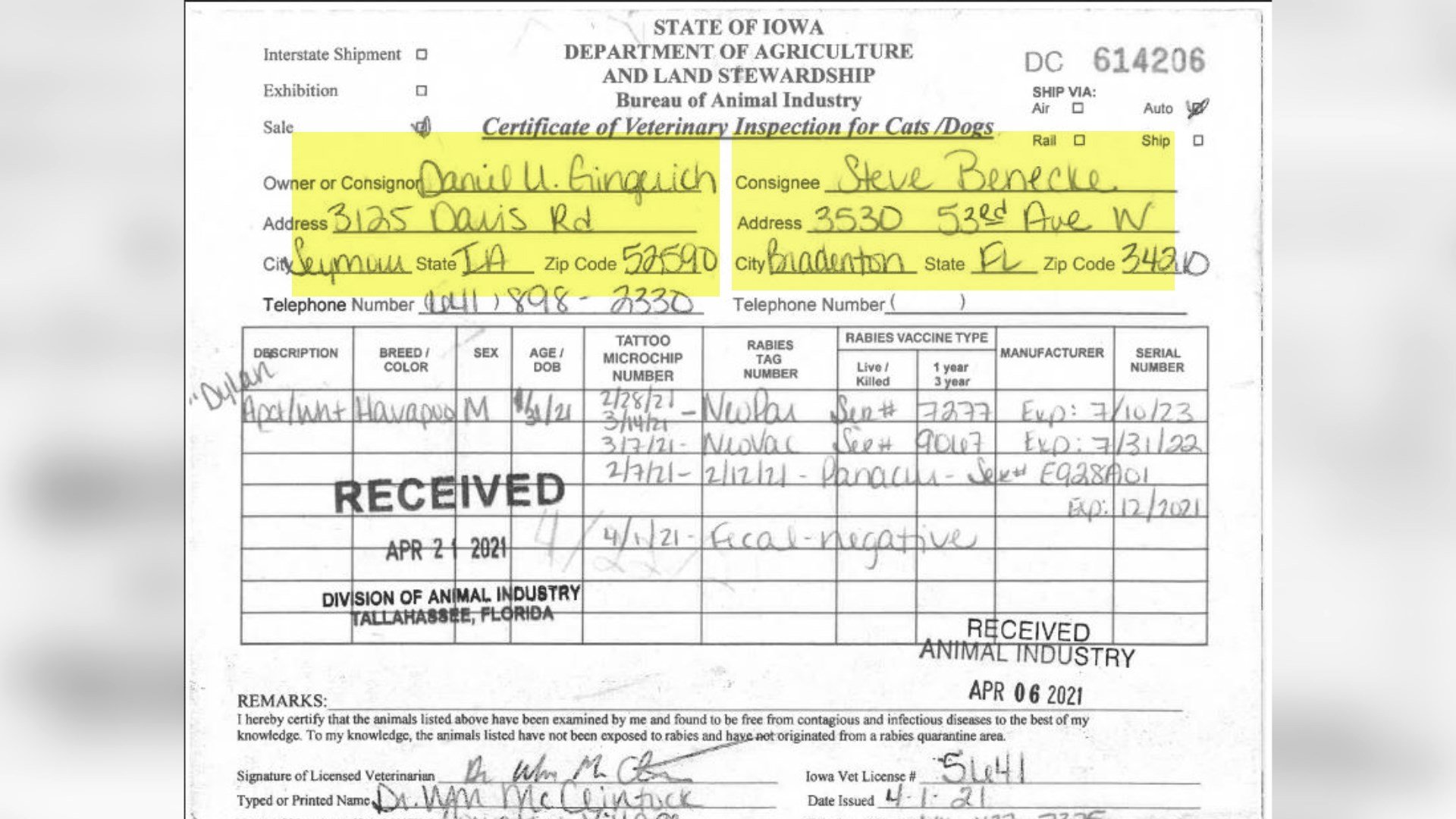 In 2021, the Department of Justice prosecuted Gingerich for animal neglect after 500 dogs were found living in horrific conditions under his care.
"It just confirms our worst fears that despite all of the rhetoric from this store, they still are just buying puppies from whoever," said Goodwin.
Beltran says the CVI was never presented in court and he cannot comment on it at this time.
"What I know is my clients are in contractual and legal obligations to follow all of the laws and to my knowledge they have and they have testified to that and no one has rebutted that and no one's produced those documents," said Beltran.
County Commissioner Carol Whitmore spent 10 years working to pass the ordinance.
"The will of the people, they spoke, and to just disregard that is very disrespectful to the citizens of Manatee County," said Whitmore.
Whitmore and Misty Servia were recently voted out and will give up their seats to Jason Bearden and Mike Rahn in November. Petland Bradenton and Petland Sarasota donated the maximum one thousand dollars to both new candidates.
"We're going to need to set up a meeting with Mr. Rahn and we're going to need to find out if he made promises to them. The constituents have already spoken. We've spoken for years we showed up at commissioner meetings, if the commissioners are going to go against what the constituents want there's going to be a problem," said Bradenton resident Traci Lipton. 
"This is an important case for our clients because it their entire livelihood and their stores will be bankrupted and the constitution will be violated and the SBA loan will be defaulted and dozens of people will be out of work if this ban is enforced," said Beltran.
Mike Rahn has not yet returned our request for comment. Beltran says once this 45 day stay is up they plan to ask the court for more time.