News
Band of the Week 2021 - Sarasota High Mighty Sailor Band
SARASOTA -The Sarasota High marching band is building a bridge over a whole lot of trouble., trouble that couldn't stop a championship performance.
The Marching Band of Pirates were plundered. COVID diminished the band's numbers; there was no normal season last year.
It's enough to get Color Guard Captain Anesa Shehaded nostalgic for just two years ago.
"My sophomore year I felt like was the best year ever. The competitions were fun. The football games were amazing, I miss it so much. Like even most my friends, we would reminisce," she says.

You see, music students are ecstatic to get back to some sort of normalcy. But for Anesa, her junior year was COVID, and she wasn't part of the band freshman year. Sophomore year was it.
I told her, "So... you had that one year. It's almost like that was the abnormal year!"
"I'm kind of mad about it," she says, "I wish I joined my freshman year but I didn't really, like, I didn't know how to!"
And to top it all off: Sarasota's football field has new turf. Cool, right? Except it's nearly impossible to get their props on the field now.
"So we can't roll the bridge out. And we can't roll the front ensemble," Anesa says regrettably.

I'm incredulous, "On your own field?"

"I know," Anesa says, "I'm kind of sad about it but that's okay. At least I experienced it once."
As band captain Jacob Newlan puts it simply, "The hits just kept on coming."
But band director Chris Leiper continues to build the program through adversity, as his kids won first place at a recent competition in Plant City, a thrilling return to form for the group in a show that's all about bringing normal when trouble abounds.
The show is called 'Troubled Water,' which tells the story of troubled waters circling like a shark until finally the band breaks free.
It's a show that's highlighted by the timeless classic, Bridge Over Troubled Water.
"It's really works to bridge the two pieces and tell the story we're wanting to tell. It'd kind of related to COVID," Jacob says.

Things were rough, but their determination is their bridge -- they've laid it down, and they're moving on.
For Jacob, it's a reminder to the students coming after him that marching band gives a thrill you're not going to get anywhere else.
"I guess to younger kids, try and do band. It's fun, it kind of looks a little nerdy, but once you get to this level, it's not getting pushed into lockers or anything. It's fun, you get to play fun music, and you get to have a lot of fun at football games and everything."
And for Anesa, it builds a bridge toward new memories so her best memories don't have to be stuck in the past.
"This show seems like it's going to become really great. Right now, it's still in its working phases, but like at the end, I think I'm going to have a good senior year. Good competitions, good experiences with all my friends."
"A lot of life-long friends?" I ask.
"Oh yeah, for sure. For sure. Kylie!"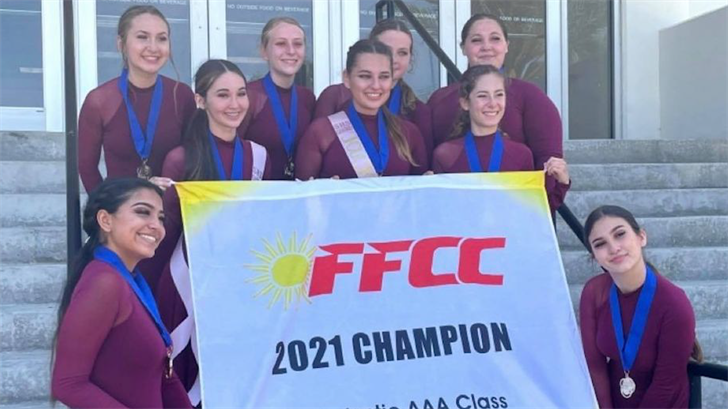 While they can't get their props on the field for home game performances, you won't have to wait long to hear them: they'll be performing at the FBA Marching Performance Assessment Saturday, October 30th, at Manatee High School.
Tickets are $15, $10 for seniors and military, and free if your middle school aged child is also in music. Parking is $10. The event begins at 2:15.